Chittagong International Trade Fair(CITF)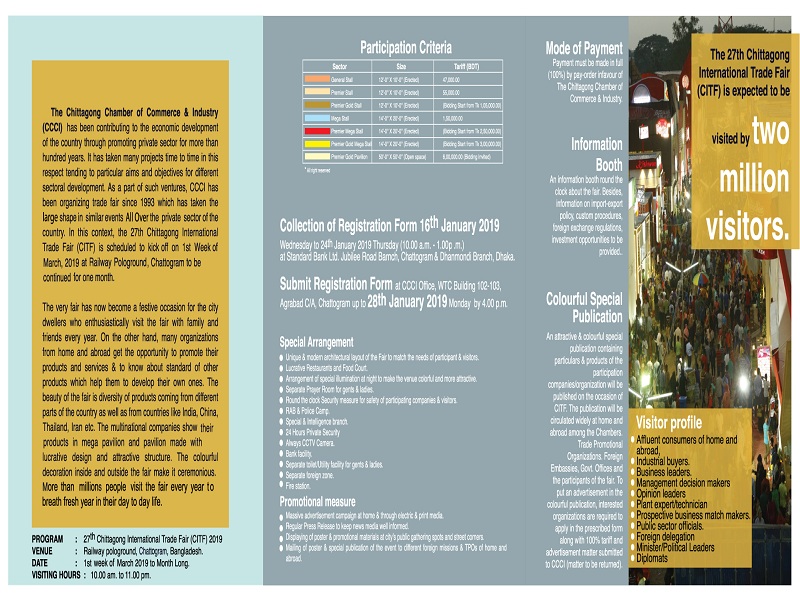 Ref: R/RDTC/6/1147 27th October 2018
The Chairman/Chief Executive/Ambassadors/High Commissions/Commercial Counsellors/ /Trade Promotional Organization/Chamber of Commerce & Industry
Dear Sir:
Participation to the 27th Chittagong International Trade Fair (CITF) 2019
Greetings from the Chittagong Chamber of Commerce & Industry.
It's our privilege to inform you that the Chittagong Chamber of Commerce & Industry is going to organize the month long 27th Chittagong International Trade Fair (CITF) 2019 from the third week of February, 2019 at the Railway Pologround premises in Chittagong, Bangladesh.
Since 1992, CCCI has been organizing this trade fair which has now become the largest one in the private sector of the country. Beginning with the local SME products, the fair has taken international shape as many countries like India, China, Japan, Korea, Iran, USA, UK, Turkey have been participating for many years. The fair provides opportunity for both the products of home and abroad to promote and share more market as well as have a comparative study about quality and standard. It is visited by more than one million people and works as a platform for bridging direct relation between the manufacturers and the consumers. It has also become a place for recreation for the city dwellers. The colourful event is now most cherished and expected one to all concerned.
We do like to organize the fair with more enthusiasm & festivity this year. You have always been cooperating with CCCI which we treat as an emblem of our heartfelt relation. In this backdrop, we would like to request your honour to take initiative to encourage and motivate organizations from your country to participate in this very fair. CCCI ensures its commitment to rendering all out cooperation so that the interested organizations of your country can participate in this event successfully. You are earnestly requested to disseminate the information to respective parties to make the venture a success.
For detail information of the fair, interested participants can log on to our official Website: www.chittagongchamber.com or contact us directly through Tel: 880-31-713366-9, Fax: 880-31-710183, E-mail info@chittagongchamber.com.
Any sort of queries about the fair will be highly appreciated.
With best regards.
(Engr. Mohd. Farque)
Secretary Incharge
The Chittagong Chamber of Commerce & Industry
CCCI & CITF Background
The Chittagong Chamber of Commerce & Industry (CCCI), established in 1959, is a premier Chamber of Bangladesh. It provides a wide spectrum of services to the trade and industry and acts as a catalyst for growth of business in the country. The Chamber has been all along very keen to address the requirements of the commercial capital and aspirations of entrepreneurs so that a congenial atmosphere is assured for growth of trade, industry & economy including induction of more FDI to some potential sectors that offer alluring profit guarantee. As part of its various trade promotional activities, CCCI has been arranging Chittagong International Trade Fair (CITF) - the largest international trade fair in the country for the last fifteen consecutive years and the event has been a total success with respect to enthusiastic participation by leading local, foreign and multinational business & manufacturing enterprises of Asia, Europe, USA and African countries.

Since its humble striding in 1992, CITF has created a tremendous enthusiasm among the exhibitors & visitors registering a significant growth in terms of participants, sales and promotion of products/services. With the passage of time, the event has emerged as the largest international trade fair of the country in term of participation.
Display Range
Processed Foods & Beverages
Textiles & Garment Accessories
Handlooms
Furniture
Handicrafts
6 (some of them with foreign collaboration)
Vocational Training Institute
Chemicals
Ceramics
Consumer Durables
Motor Vehicle
Building Materials
Leather Goods
Toiletries
Special Arrangement
| | |
| --- | --- |
| | Unique & modern architectural layout of the Fair to match the needs of participant & visitors |
| | Item/product wise segmentation of stall/booth |
| | Lucrative Restaurants and Fast Food Corner |
| | Arrangement of special illumination at night to make the venue colourful and more attractive. |
| | Fire fighting arrangement. |
| | Firt Aid. |
| | Separate Prayer Room for ladies & gents. |
| | Round the clock Security measure for safety of participating companies & visitors. |
| | Permanent Police Camp. |
Visitor Profile
The previous Fairs were visited by visitors from the following segments.
| | |
| --- | --- |
| | Affluent consumers of home and abroad. |
| | Industrial buyers. |
| | Business leaders. |
| | Management decision makers. |
| | Opinion leaders. |
| | Plant expert/technician. |
| | Prospective business match makers. |
| | Public sector officials. |
| | Foreign delegation. |
Previous Fair Information
| | | | |
| --- | --- | --- | --- |
| Years | Visitors | Participants | Booth/Pavilion |
| 1993 | 15,000 | 37 | 47 |
| 1994 | 25,000 | 64 | 75 |
| 1995 | 40,000 | 69 | 84 |
| 1996 | 62,000 | 72 | 91 |
| 1997 | 1,44,000 | 78 | 141 |
| 1998 | 2,80,000 | 125 | 233 |
| 1999 | 4,50,000 | 210 | 372 |
| 2000 | 7,00,000 | 285 | 375 |
| 2001 | 8,00,000 | 234 | 325 |
| 2002 | 9,00,000 | 255 | 345 |
| 2003 | 15,00,000 | 343 | 450 |
| 2004 | 17,00,000 | 350 | 458 |
| 2005 | 18,00,000 | 350 | 460 |